Get your quote right away with a single click !
Engage audience our through lamppost advertising agency
*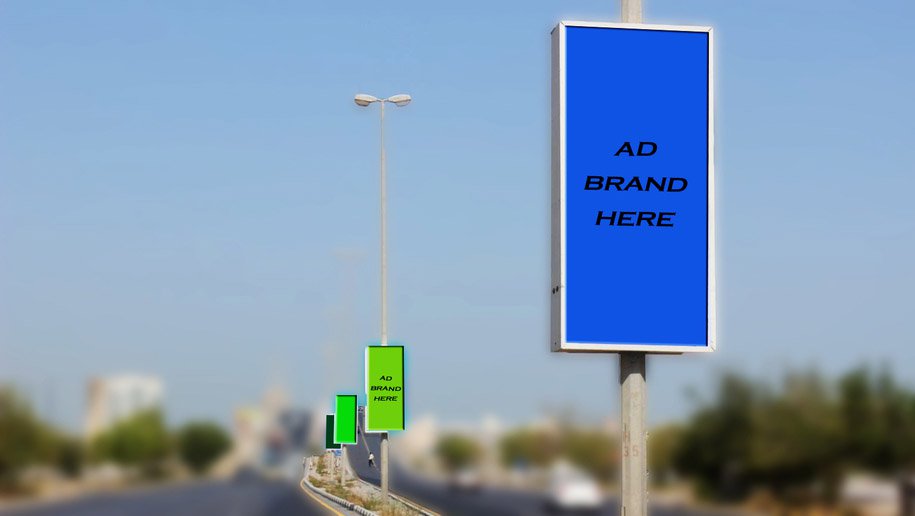 Lamppost advertising, also commonly known as pole kiosk advertising, street pole advertising, street light advertising, lamp pole advertising, usually involves putting up compact advertising boards on electric poles, long poles and road medians consecutively back to back in places with vast traffic, such as highways and major city roads. Our lampposts or pole kiosks comes in a wide range of shapes and sizes and involve those small repeated boards in the middle or either side of the motorway. This repeated exposure at regular intervals easily grabs an individual's attention and makes an everlasting impression.

Lamp post ads has a lot of rage amongst advertisers at present, and it is accessible on all big and small roads. It is said that the average audience sees more than 1,000 advertisements every day yet recalls hardly seven. And there begins the race to reach the top six or seven! Here, lamp pole advertising or pole kiosk advertising are something that can take the brand to the top of those 'memory seats' of the audience, where they cannot afford to ignore the brand's impression. While other traditional advertising mediums struggle in the digital age, lamp advertisement has thrived by adapting, and they are regarded as cost-effective, widely accessible, convenient, and appealing. Hence lamppost advertising is also recommended by our agency.
Get your quote right away with a single click !
Lamppost Advertisement in India
Type of Lamp Post advertising we provide in India:
Long Lamp Post or pole kiosk: The long lamppost or pole kiosk advertising is one of the most commonly used advertising methods, placed either in the middle of the road or on either side of the road. Since the pole is repeatedly lined up at a height of 10 to 20 feet above the ground, it gives a clear view of the brand from afar.
Road Median Lamp Post or Pole kiosk: The road median lamp post or pole kiosk involves small repeated boards positioned 3 to 6 feet above the ground in the middle of the road or the road dividers. These repeated exposures at regular intervals easily grab an individual's attention and make an everlasting impression.
These long pole kiosks and road median kiosks come with three different types of portrayal of the adverts to the audience. Some of the prominent ones that are being utilized are;
Classic non lit lamppost: The classic non-lit lamppost is one of the traditional ways of lamppost advertising as it is equipped only with boards positioned with repeated exposures either in the middle of the road or either side of the road.
Backlit Lamppost: The lamppost with a light effect from behind the board gives clear visibility of the brand all day and especially at night.
Front lit Lamppost: The lamppost advertising board with a front light effect gives the clear visibility of the brand all day and especially at night.
Type of material we use for Lamppost advertising in India:
General Flex: Generally, Flex fabrication is used in a wide range of indoor and outdoor applications of lamp post advertising. The print material created by using flex material is vibrant, heavy duty, and resistant to fading in extreme weather conditions. Thus, we, a professional lamppost advertising company, create lamppost advertising with flex which can be easily placed outdoors for longer periods of time. Our experts provide the best guidance for the material to be used as per the type of lamppost and the campaign duration ensuring high effectiveness and low-cost ex Backlit lamppost and non lit lamppost will have different materials, and a smaller duration campaign can have relatively less durable quality material to save cost.
Cotton Flex: With a few state governments' bans on flex, cotton flex fabric is used as an exclusive alternative to lamppost advertisements because of its advanced coated fabric that has consistent quality, compatibility, recyclable nature, and eco-friendliness to the environment. We at BuyMediaSpace always adhere to the policy laid out by the local administration to avoid any issue that may impact the campaign or create bad PR.
Execution and Monitoring of the Lamppost Advertisement in India
Media Planning: At BuyMediaSpace, our first and most important step to launch a lamppost branding is media planning, with the objective of selecting a lamppost located in the catchment area of targeted audience based on the brand campaign objective. We do this by selecting the number of lampposts in each area to optimize the budget utilization and maximize the campaign effectiveness.
Execution: Once the media plan is approved, our service provider team proceeds with the printing or fabrication of the media as applicable and the fabricated media is mounted on the selected lamppost by our lamppost advertising service team.
Monitoring: Once the execution is completed, our monitoring team initiates campaign monitoring and the evidential proof (Geo tagged images or dated newspaper Images) of the lamppost ads will be submitted to clients on the date of the endorsement of the campaign. Once the campaign reaches the last date, it will be monitored again by our monitoring team and evidential proof (Geo tagged images or dated newspaper Images) of the same will be sent to the clients as proof for the closure of the campaign. In need of an extension of the campaign, it could be discussed prior to the end of the lamppost advertising campaign.
If you ever get to wonder:
How much does lamppost advertising cost in India? Or How do bring forth your brand and advertise in front of a wide variety of passengers and onlookers through lamppost advertising? Or Which lamppost advertising method is the simplest and most effective? Or what type of material should be used for lamppost advertising? or why are we the best advertising agency in India? Or any related queries about lamppost advertising. Then you are on the right platform to get assistance and get your brand announced to the world.
How can we help you with lamppost or pole kiosk advertising
BuyMediaSpace is a PAN India marketing and advertising agency with over 22 years of industry experience for all offline advertising campaigns. With a presence across major 46 cities and mega 3 cities, we are one of the best advertising agencies in India. We at BuyMediaSpace understand the importance of branding and advertising, and offer you creative tailor-made solutions for advertising, allowing you to present your best self to potential customers and gain a competitive advantage at affordable rates.
For any input on Lamppost or Pole kiosk advertising;
Mail us: support@buymediaspace.com
Contact us: 63602 14181
We would love to hear from you!