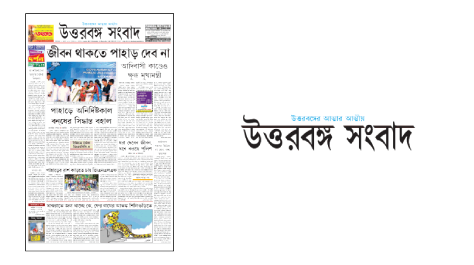 Book Jobs And Recruitment Ads in Uttar Banga Sambad Siliguri
Category
Jobs And Recruitment
Total Circulations
82,580
Select Classified
Coverage Cities
24 Parganas n
Ahmadpur
Alipur Duar
Balurghat
Banarhat Tea Garden


Dalkola
Dhupgari
Dinhata
English Bazar


Falakata
Gairkata
Gangarampur
Haldibari


Islampur
Jalpaiguri
Jaygaon
Kaliyaganj


Kishanganj
Koch Bihar
Mainaguri
Mal


Mathabhanga
Mekliganj
Raiganj
Siliguri


Tufanganj
---
Text Enhancements
Bold

N/A

Background

75 %

Border

N/A

Active CL

₹ 200

Image

N/A

Tick Mark

N/A

Language Charges

N/A
---
Offer & Packages
Bold

N/A

Background

N/A

Border

N/A

Active CL

₹ 200

Image

N/A

Tick Mark

N/A

Language Charges

N/A
---
Mechanical Information
No. Of Column

8

Column Width

4.00 Cm

Page Height

51.00 Cm

Page Width

33.30 Cm
---
Terms & Conditions
1. Want to BOLD the Ad matter (Only Headline), it will be Rs 200 For B/w and 300 for colour per Line. 2. For certain ads, such a Notice, Name Change, Announcement etc., supporting documents may be required 3. Complete Address of the company needs to be provided for business classified or such related Ads. 4. Usage of slang words/ cursed words is strictly prohibited. Advertisements containing any banned words will be cancelled. 5. Newspaper reserves the right to cancel any Advertisement.
---
Need more info on the costing of
Uttar Banga Sambad

Jobs And Recruitment Ads ?
Wait no more, we got pocketed rate for you!
BuyMediaSpace is a renowned newspaper agency that collaborates with a wide range of newspapers, providing advertising solutions with standard rate details. Whether you choose national or regional newspapers, we offer competitive rates for advertising that meet industry standards. With BuyMediaSpace, you can expect transparent and comprehensive rate details for your newspaper advertising campaigns.
Let's Talk