Daily Thanti_Service_Exc CH+BG+MUM - Packaged Offer for PERSONAL Ad in Newspapers
---
List of Newspapers in the Package
---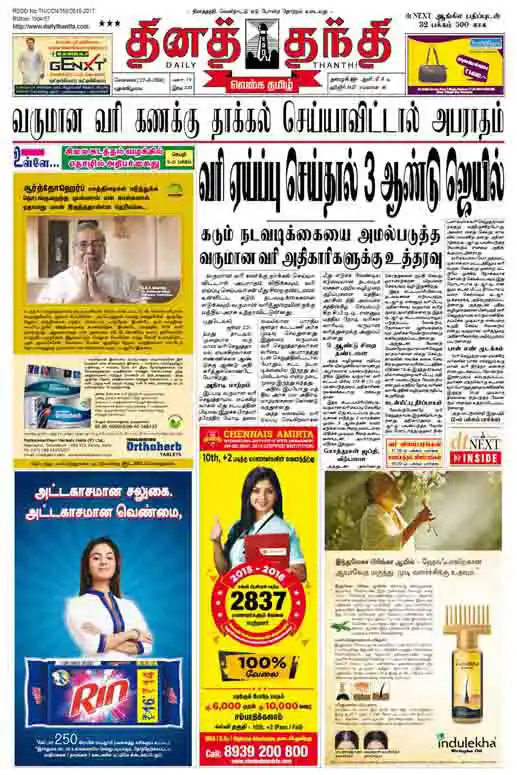 DAILY THANTHI
Edition Coimbatore, Cuddalore, Dindigul, Erode, Madurai, Nagercoil, Pondicherry, Salem, Thanjavur, Thiruchirapalli, Tirunelveli, Tirupur, Vellore
Language

Coverage City :

Coimbatore Edition (Circulation - 1,20,101)
Alanthurai
Anaimalai
Annur
Chinnavedampatti
Coimbatore
Coonoor
Gudalur
Idikarai
Irugur
Kalapatti
Karamadai
Karumathampatti
Kinathukadavu
Kotagiri
Kottur
Kuniyamuthur
Kurichi
Madukkarai
Makkinanpatti
Mettupalayam
Mopperipalayam
Nilagiri
Othakalmandapam
Pallapalayam
Periyanaickenpalayam
Perur
Pollachi
Puluvapatti
Samathur
Saravanampatti
Sarcarsamakulam
Sirumugai
Sulur
Thondamuthur
Vadavalli
Valparai
Vedapatti
Veerapandi
Vellakinar
Vellalur
Vilankurichi

Coverage City :

Cuddalore Edition (Circulation - 68,348)
Arakandanallur
Bhuvanagiri
Chidambaram
Chinna Salem
Cuddalore
Gingi
Kallakkurichi
Kattumannarkoil
Kurinjippadi
Lalpet
Nellikkuppam
Neyveli
Panruti
Parangippettai
Pennadam
Sankarapuram
Sethiathoppu
Srimushnam
Thiagadurgam
Tindivanam
Tirukkoyilur
Tittakudi
Ulundurpettai
Vadalur
Valavanur
Vikravandi
Villupuram
Virudhachalam

Coverage City :

Dindigul Edition (Circulation - 51,258)
Andippatti
Ayakudi
Balasamudram
Batlagundu
Bodinayakkanur
Chinalapatti
Chinnammanur
Dindigul
Eriodu
Gudalur
Kambam
Kannivadi
Kodaikanal
Natham
Neikkarapatti
Nilakkottai
Oddanchatram
Palani
Palani Chettipatti
Pattiviranpatti
Periyakulam
Sithayankottai
Thadikombu
Thamaraikulam
Theni
Theni Allinagaram
Thevaram
Vadamadurai
Vadugapatti
Vedasandur

Coverage City :

Erode Edition (Circulation - 50,556)
Anthiyur
Appakudal
Arachalur
Athani
Avalpundurai
Bhavani
Brahmana Periya Agraharam
Chennimalai
Erode
Jambai
Kanjikoil
Karumandi Chellipalayam
Kasipalaiyam
Kodumudi
Kolappalur
Kuhalur
Modakurichi
Mukasipidariyur
Nallampatti
Nambiyur
Pallipalayam
Pasur
Periyakodiveri
Periyasemur
Perundurai
Pethampalayam
Punjai Puliyampatti
Salangapalayam
Sathyamangalam
Sivagiri
Surampatti
Unjalaur
Vijayapuri

Coverage City :

Madurai Edition (Circulation - 1,25,995)
Alanganallur
Alangulam
Anaiyur
Aruppukkottai
Avaniapuram
Chatrapatti
Chinna Anuppanadi
Devakkottai
Elayirampannai
Elumalai
Harveypatti
Kamuthi
Karaikkudi
Kariapatti
Kilakarai
Kottaiyur
Madurai
Mamsapuram
Manamadurai
Mandapam
Melur
Mudukulathur
Othakadai
Paramakkudi
Paravai
Peraiyur
Puduvayal
Rajapalayam
Ramanathapuram
Rameswaram
Sattur
Sayalgudi
Seithur
Sholavandan
Singampuneri
Sivaganga
Sivakasi
Srivilliputtur
T.kallupatti
Thirunagar
Thiruparankundram
Thirupuvanam
Thiruthangal
Tirupathur
Usilampatti
Vadipatti
Vandiyur
Vathirairuppu
Vilangudi
Virudhunagar

Coverage City :

Nagercoil Edition (Circulation - 1,08,517)
Agasthiswaram
Alagappapuram
Alur
Anjugramam
Aralvaimozhi
Arumanai
Asaripallam
Athur
Azhagiapandiapuram
Buthapandi
Dharapuram
Edaikodu
Eraniel
Ganapathipuram
Kadayal
Kaliyakkavilai
Kanyakumari
Karungal
Killiyur
Kollam
Kottaram
Kottayam
Kuzhithurai
Manavalakurichi
Mandaikadu
Marungur
Mulagumudu
Myladi
Nagercoil
Pacode
Padmanabhapuram
Puthalam
Suchindram
Thengampudur
Thikkanamcode
Thingalnagar
Thiruvananthapuram
Thiruvattaru
Unnamalaikadai
Vellimalai
Verkilambi
Villukuri

Coverage City :

Pondicherry Edition (Circulation - 29,266)
Karaikal
Pondicherry
Villianur

Coverage City :

Salem Edition (Circulation - 1,26,644)
Alampalayam
Attayyampatti
Attur
Ayothiapattinam
Bargur
Denkanikottai
Dharmapuri
Edappadi
Erumaipatti
Ethapur
Harur
Hosur
Ilampillai
Jalakandapuram
Kadathur
Kalappanaickenpatti
Kannankurichi
Kariamangalam
Kaveripattinam
Kolathur
Kondalampatti
Konganapuram
Krishnagiri
Kumarapalayam
Mallasamudram
Mallur
Mecheri
Mettur
Mohanur
Namagiripettai
Namakkal
Nangavalli
Narasingapuram
Omalur
Palakkodu
Papparapatti
Pappireddipatti
Paramathi
Pennagaram
Pethanaickenpalayam
Rasipuram
Salem
Sankari
Senthamangalam
Thammampatti
Tiruchengode
Uthangarai
Vazhapadi
Vennanthur
Yercaud

Coverage City :

Thanjavur Edition (Circulation - 91,915)
Adiramapattinam
Ammapettai
Kilvelur
Koradacheri
Kumbakonam
Kuthalam
Madukkur
Manalmedu
Mannargudi
Mayiladuthurai
Melathiruppanthuruthi
Muthupet
Nagapattinam
Nanjikottai
Nannilam
Nidamangalam
Orathanadu
Papanasam
Pattukkottai
Peralam
Peravurani
Perumandi
Sirkali
Thanjavur
Thirunageswaram
Thiruthuraipundi
Thiruvaivaru
Thiruvarur
Tittacheri
Vaithiswarankoil
Vallam
Vedaranniyam
Velankanni

Coverage City :

Thiruchirapalli Edition (Circulation - 1,02,789)
Alangudi
Annavasal
Arantangi
Aravakurichi
Ariyalur
Iluppur
Jayankondam
Kallakudi
Karambakkudi
Karur
Kiramangalam
Kiranur
Krishnarayapuram
Kulithalai
Kurumbalur
Kuthappar
Labbaikudikadu
Lalgudi
Manachanallur
Manapparai
Musiri
Perambalur
Ponnamaravathi
Pudukottai
Pullampadi
Punjaipugalur
Srirangam
TNPL Pugalur
Thiruchirapalli
Thottiyam
Thuvakudi
Udayarpalayam
Uppidamangalam

Coverage City :

Tirunelveli Edition (Circulation - 1,33,531)
Achampudur
Alangulam
Alwar Tirunagari
Alwarkurichi
Ambasamudram
Arumuganeri
Athur
Aygudi
Cheranmadevi
Courtalam
Eral
Eruvadi
Ettaiyapuram
Ilanji
Kadambur
Kadayanallur
Kalakkad
Kallakkurichi
Kalugumalai
Kayalpattinam
Kovilpatti
Manimutharu
Milavittan
Mukkudal
Mulakaraipatti
Muttayyapuram
Nanguneri
Nazerath
Panagudi
Pathamadai
Puliyankudi
Rayagiri
Sambavar Vadagarai
Sankarankoil
Sankarnagar
Sayapuram
Shenkottai
Sivagiri
Sivanthipuram
Srivaikuntam
Sundarapandiapuram
Surandai
Tenkasi
Thenthiruperai
Thiruvenkatam
Thisayanvilai
Tiruchchendur
Tirunelveli
Udankudi
Vadakku Valliyur
Vasudevanallur
Vikramasingapuram
Vilathikulam
Viravanallur

Coverage City :

Tirupur Edition (Circulation - 41,668)
Arulmigu Thirumuruganpundi
Dharapuram
Kaniyur
Komaralingam
Kunnathur
Madathukulam
Mangalam
Mulanur
Muthur
Palladam
Tirupur
Udumalaipettai
Veerapandi
Vellakoil
Zamin Uthukuli

Coverage City :

Vellore Edition (Circulation - 67,987)
Allapuram
Ambur
Ammanur
Ammur
Arakonam
Arani
Arcot
Cart Road
Chengam
Chetpet
Cheyyar
Dharapadavedu
Gudiyattam
Jolarpet
Kalambur
Kalavai
Kannamangalam
Katpadi
Kaveripakkam
Kon
Kurandvad
Melvisharam
Natrampalli
Nemili
Pallikonda
Panapakkam
Polur
Ranipettai
Sathuvachari
Shenbakkam
Sholingur
Thiruvalam
Thorapadi
Thuthipattu
Tirupathur
Tirupati
Tiruvannamalai
Tiruvethipuram
Vandavasi
Vaniyambadi
Vellore
Walajapet
---
Offer & Packages
BOOK :

3 ADS
GET :

1 Free
USE WITHIN :

15 DAYS
BOOK :

5 ADS
GET :

2 Free
USE WITHIN :

30 DAYS
BOOK :

10 ADS
GET :

5 Free
USE WITHIN :

45 DAYS
---
Terms & Conditions
Daily Thanthi:

1. Want to BOLD the Ad matter, it will be 10% extra. 2. Business ads must include full Residential address in the Ad matter. For certain ads (Notice,Name Change,Announcement etc.) supporting documents may be required.
---
Explore more Newspaper packages for
Personal

Ads ?
Contact us for the best offers now!!
BuyMediaSpace is a reputed newspaper agency that collaborates with multiple newspapers, offering comprehensive advertising solutions with package rate details. We provide packages that encompass a selection of newspapers, ensuring widespread coverage and maximum exposure for your advertisements. With BuyMediaSpace, you can take advantage of bundled packages to efficiently promote your brand across multiple newspapers, reaching a diverse audience and maximizing the impact of your advertising campaign.
Let's Talk