Andhra Joyti(MBNR+WNPT+NGKL+JLMB)_All Category - Packaged Offer for JOBS AND RECRUITMENT Ad in Newspapers
Category
JOBS AND RECRUITMENT
---
List of Newspapers in the Package
---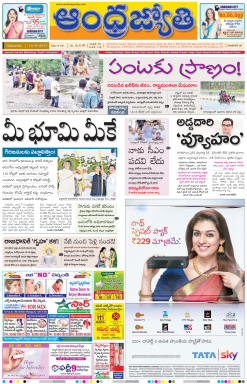 ANDHRA JYOTHI
Edition Mahbubnagar, Wanaparthy, Nagarkarnool, Gadwal
Language

Coverage City :

Mahbubnagar Edition (Circulation - 13,167)
Achampet
Kalwakurthy
Mahbubnagar
Narayanpet
Wanaparthy

Coverage City :

Wanaparthy Edition (Circulation - NA)

Coverage City :

Nagarkarnool Edition (Circulation - NA)

Coverage City :

Gadwal Edition (Circulation - NA)
---
Offer & Packages
---
Terms & Conditions
Andhra Jyothi:

1. For certain ads, such as Notice, Name Change, Announcement etc., supporting documents may be required 2. Complete Address of the company needs to be provided for business classified or such related Ads. 3. Usage of slang words/ cursed words is strictly prohibited. Advertisements containing any banned words will be canceled. 4. Ad Content will be accepted in English Language only. The newspaper will translate the provided Ad Content in Telugu. 5. Newspaper reserves the right to cancel any Advertisement.
---
Explore more Newspaper packages for
Jobs And Recruitment

Ads ?
Contact us for the best offers now!!
BuyMediaSpace is a reputed newspaper agency that collaborates with multiple newspapers, offering comprehensive advertising solutions with package rate details. We provide packages that encompass a selection of newspapers, ensuring widespread coverage and maximum exposure for your advertisements. With BuyMediaSpace, you can take advantage of bundled packages to efficiently promote your brand across multiple newspapers, reaching a diverse audience and maximizing the impact of your advertising campaign.
Let's Talk