Amar Ujala_All Others_(North Power C) - Packaged Offer for ASTROLOGY Ad in Newspapers
---
List of Newspapers in the Package
---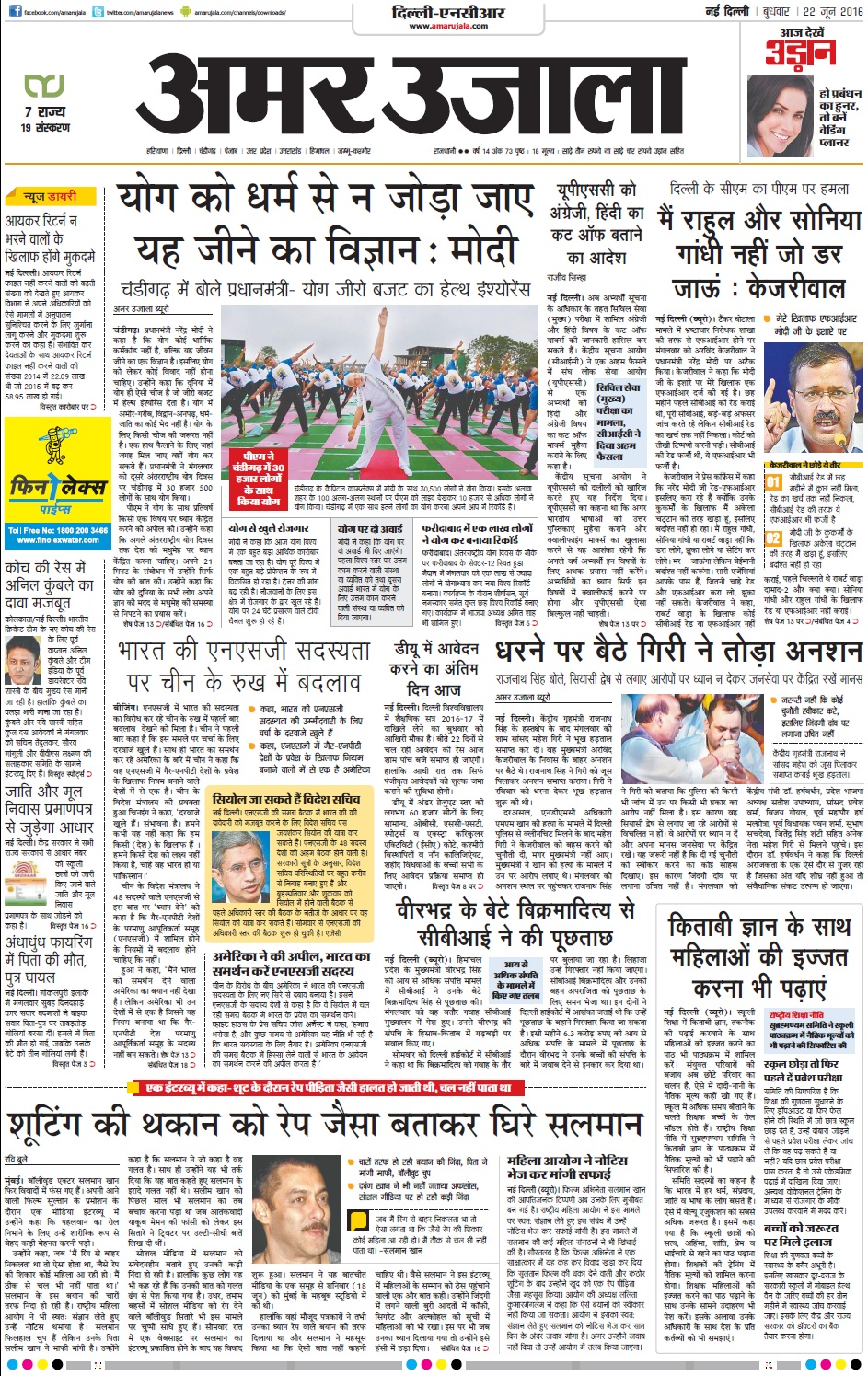 AMAR UJALA
Edition Agra, Chandigarh, Dehradun, Nainital, New Delhi, Jalandhar, Jammu, Dharamshala, Rohtak
Language HINDI

Coverage City :

Agra Edition (Circulation - 2,27,778)
Achhnera
Agra
Aliganj
Amanpur
Aurangabad
Awagarh
Azizpur
Bad
Bah
Bajna
Baldeo
Bewar
Bharatpur
Bhogaon
Chaumuhan
Chhata
Dhaulpur
Dholpur
Etah
Etmadpur
Farah
Fariha
Fatehabad
Fatehpur Sikri
Firozabad
Ganj Dundawara
Ghiror
Gokul
Govardhan
Jagner
Jaithara
Jalesar
Karhal
Kasganj
Khandauli
Kheragarh
Kiraoli
Kishni
Kosi Kalan
Kusmara
Mainpuri
Makhanpur
Marehra
Mathura
Mohanpur
Palia Kalan
Patiyali
Pinahat
Radha Kund
Raya
Sahawar
Sakit
Saunkh
Shamsabad
Shikohabad
Sidhpura
Sirsaganj
Soron
Tundla
Vrindavan

Coverage City :

Chandigarh Edition (Circulation - 1,56,432)
Abohar
Arki
Asandh
Baddi
Chandigarh
Cheeka
Chhachhrauli
Darlaghat
Dera Bassi
Indri
Jagadhri
Jhakhri
Jubbal
Kaithal
Kalayat
Kalka
Kalpa
Kandaghat
Karnal
Kasauli
Kharar
Kot Khai
Kumharsain
Kurali
Kurukshetra
Ladwa
Lalru
Mala
Mohali
Mustafabad
Nahan
Nalagarh
Nermand
Nerua
Pachhad
Panchkula
Panipat
Paonta Sahib
Parwanoo
Pehowa
Pinjaur
Poo
Radaur
Rajgarh
Rohru
Sabathu
Samalkha
Shimla
Sirmaur
Solan
Theog
Yamunanagar
Zirakpur

Coverage City :

Dehradun Edition (Circulation - NA)
Allahabad
Ashrafpur Kichhauchha
Atasu
Atraulia
Azamgarh
Babarpur Ajitmal
Barkot
Bhagwanpur
Bharatganj
Bidhuna
Chamba
Chamoli and Gopeshwar
Dehradun
Devaprayag
Dhandera
Dibiyapur
Doiwala
Hariharpur
Herbertpur
Jalalpur
Jiyanpur
Joshimath
Karnaprayang
Kirtinagar
Kotdwara
Laksar
Manglaur
Pauri
Phaphund
Rishikesh
Roorkee
Rudraprayag
Srinagar
Tehri
Uttarkashi
Vikasnagar

Coverage City :

Nainital Edition (Circulation - 1,07,637)
Ahraura
Ailum
Almora
Bageshwar
Bahjoi
Bajpur
Banbasa
Bazpur
Berinag
Bhim Tal
Bhowali
Bilari
Bilsanda
Champawat
Chandausi
Charthawal
Chunar
Dharchula
Didihat
Dineshpur
Dwarahat
Gadarpur
Gairkata
Haldwani
Jansath
Jaspur
Jhinjhana
Kachhwa
Kairana
Kaladungi
Kandhla
Kashipur
Khatauli
Khatima
Kichha
Kundarki
Lalkuan
Miranpur
Mirzapur
Moradabad
Muzaffarnagar
Nagla
Nainital
Narauli
Pithoragarh
Purqazi
Ramnagar
Ramnagar
Ranikhet
Rudrapur
Rudrapur
Sambhal
Shamli
Sirsi
Sisauli
Sitarganj
Sultanpur
Tanakpur
Thakurdwara
Thana Bhawan
Udham Singh Nagar
Un

Coverage City :

New Delhi Edition (Circulation - 2,09,868)
Allahganj
Antu
Anupshahr
Aurangabad
Behat
Bhadohi
Bhawan Bahadurnagar
Bilaspur
Bugrasi
Bulandshahar
Chhutmalpur
Chilkana Sultanpur
Dadri
Dalmau
Dankaur
Dasna
Delhi
Deoband
Dibai
Faridabad
Gangoh
Garhmukteshwar
Ghaziabad
Gopiganj
Greater Noida
Gulaothi
Gurgaon
Gyanpur
Haileymandi
Hapur
Hathin
Hodal
Jahangirabad
Jahangirpur
Jewar
Kailashpur
Kakod
Kemri
Khamaria
Khanpur
Khurja
Lalganj
Loni
Milak
Modinagar
Muradnagar
Nakur
Nanaunta
New Delhi
Noida
Nuh
Ordinance Factory Muradnagar
Pahasu
Palwal
Patti
Pilkhuwa
Punahana
Rabupura
Saharanpur
Salon
Sarsawan
Shikarpur
Siana
Sikandarabad
Sohna
Suar
Suriyawan
Taoru
Unchahar

Coverage City :

Jalandhar Edition (Circulation - NA)
Amritsar
Bathinda
Faridkot
Fatehgarh Sahib
Firozpur
Gurdaspur
Hoshiarpur
Jalandhar
Kapurthala
Kartarpur
Ludhiana
Mansa
Moga
Muktsar
Nakodar
Nawashahr
Patiala
Phillaur
Sangrur

Coverage City :

Jammu Edition (Circulation - 55,812)
Akhnur
Bari Brahmana
Billawar
Bishna
Hiranagar
Jammu
Jourian
Kathua
Katra
Punch
Reasi
Samba
Sunderbani
Udhampur
Vijaypur

Coverage City :

Dharamshala Edition (Circulation - 72,506)
Agarwal Mandi
Amb
Atarra
Baberu
Baghpat
Baheri
Bahraich
Baijnath
Baldwara
Ballia
Balrampur
Bangana
Bansdih
Baraut
Bareilly
Barsar
Belthara
Chamba
Chhaprauli
Daulatpur
Dewa
Dharamshala
Galore
Haidergarh
Hamirpur
Jawala Mukhi
Jawali
Jogindarnagar
Kala Amb
Kangra
Katghar Lalganj
Kullu
Manali
Mandi
Maniyar
Mehatpur Basdehra
Mehnagar
Mubarakpur
Nadaun
Nagrota Bagwan
Nanpara
Naraini
Nurpur
Nurpur
Padhar
Palampur
Rasra
Sainj
Sarka Ghat
Sundarnagar
Tindwari
Tira Sujanpur
Tulsipur
Una
Yol

Coverage City :

Rohtak Edition (Circulation - 1,12,186)
Adampur
Ambala
Amethi
Anpara
Ateli
Auras
Bahadurgarh
Bangarmau
Bansi
Barwala
Bawal
Beri
Bhagwantnagar
Bhinga
Bhiwani
Bighapur
Charkhi Dadri
Fatehabad
Ghorawal
Gohana
Hansi
Hargaon
Hisar
Hissar
Jhajjar
Jind
Julana
Kadipur
Kaithal
Kalanaur
Kalanwali
Kanina
Karnal
Kharkhoda
Korwa
Kurukshetra
Laharpur
Loharu
Maham
Mahendragarh
Mahmudabad
Maholi
Musafirkhana
Narnaul
Narnaund
Narwana
Panipat
Purwa
Renukut
Rewari
Rohtak
Safipur
Sidhauli
Sirsa
Sitapur
Sonbhadra
Sonipat
Tohana
Tosham
Uchana
Uklana Mandi
Unnao
Yamunanagar
---
Offer & Packages
BOOK :

2 ADS
GET :

1 Free
USE WITHIN :

7 DAYS
BOOK :

5 ADS
GET :

3 Free
USE WITHIN :

12 DAYS
BOOK :

15 ADS
GET :

15 Free
USE WITHIN :

30 DAYS
---
Terms & Conditions
Amar Ujala:

1. Want to BOLD the Ad matter, it will be 35% Extra. 2. Maximum 50 words are accepted. 3. Logo/ Pictures are not allowed in Ad matter. 4. Abbreviation of words is strictly prohibited in the Ad matter - viz. Morn, Feb, BHK, etc. Further, words such as BHK, p.a. will be taken as 3 words (Bedroom, Hall, Kitchen) and 2 words (Per annum) respectively for editorial purpose. 5. For Business and all other Ads except Matrimonial, Photo ID proof is required and for other certain ads (Notice, Name Change, Announcement etc.) supporting documents may also be required. 6. Multiple person's Name Change or Lost & Found in single ad text is not allowed.
---
Explore more Newspaper packages for
Astrology

Ads ?
Contact us for the best offers now!!
BuyMediaSpace is a reputed newspaper agency that collaborates with multiple newspapers, offering comprehensive advertising solutions with package rate details. We provide packages that encompass a selection of newspapers, ensuring widespread coverage and maximum exposure for your advertisements. With BuyMediaSpace, you can take advantage of bundled packages to efficiently promote your brand across multiple newspapers, reaching a diverse audience and maximizing the impact of your advertising campaign.
Let's Talk